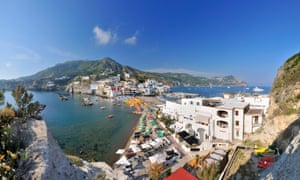 Few works of fiction have captured the sultry grittiness of southern Italy like Elena Ferrante's wildly successful Neapolitan quartet, which concluded this month with the English translation of The Story of the Lost Child. Ferrante's 1950s Naples is a chaotic mire of sweat and stymied ambition – a place her characters all struggle to escape. But with a hop across the Gulf of Naples, Ferrante transports readers to paradise.
A one-hour ferry ride from the city, Ischia is a 17-square-mile island of parched tufa and bougainvillea that has hardly changed since the languid summers when Ferrante's teenage protagonists – fleeing Naples' stultifying heat and poverty – discover their respective sexualities on the thermal beach at Maronti. Even today, the majority of visitors to Ischia are Italians; many, like Ferrante's Elena and Lila, are Neapolitans from across the bay, often returning to the same guesthouses and rental apartments every year, each summer a chance to catch up with old friends.
Continue reading this article in The Guardian, by Tara Isabella Burton.